Welcome to the Las Vegas High School
Alumni Association
A 501(c)3 Non-Profit Organization
We offer information about the group, present memorabilia and content pertaining to
Las Vegas High School and the alumni from all classes since 1907.
This is also a good place to contact us.
***
Hey LVHS senior students apply now:
Las Vegas High School Alumni Association
2017 Scholarships
Deadline: April 7, 2017, 2:00 p.m.
Click here for the submission details(PDF)
***
LVHS is a Title 1 school and has a high percentage of students from low-income families below the poverty level.
Many of the LVHS staff members personally provide school supplies and food for some of the students. The school has established a Donation Center to collect supplies to help the needy students, and the LVHSAA has provided funds to purchase storage supplies to house the donated items. If any of our alumni would like to help by donating non-perishable food, clothing, school supplies, etc., they should contact:
Jennifer Sims, Student Council Advisor
702-799-0180, extension 4302 or jksims@interact.ccsd.net
or
Danielle Anthony, Student Council Advisor
702-799-0180, ext 4305 or djanthony@interact.ccsd.net
***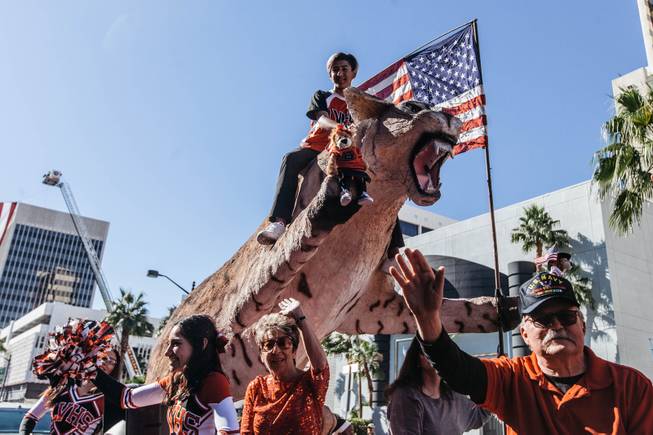 The Wildcat float at the Veterans Day Parade 2016
***
ANNUAL WILDCAT REUNION FOR ALL CLASSES WAS HELD ON SATURDAY, SEPTEMBER 24, 2016
Here is the Wildcat Reunion recap!

See the Wildcat Reunion page for details.
***
You can now add the LVHSAA to the list of charities helped by Amazon Smile. When making Amazon.com purchases, simply go to smile.amazon.com and continue as you normally would. They will donate 0.05% of your purchase to the charity designated. This is just another way to add to the LVHSAA Scholarship Fund.
(CLICK THE LOGO BELOW)

***
The 2015 Wildcat Reunion
Class of 1960 55th reunion pictures
We had a contest and class of 1965 won this year.
click the picture below to see the pictures of the trophy.

***
Merchandise!
If you haven't heard, we now offer LVHSAA merchandise for sale
Here is the list of merchandise and their prices
license plate holders

They are available by mail for an $8.00 donation each or may be picked up in-person for $5.00 each.
We now also have Wildcat pins



Wildcat metal lapel pins show your Wildcat pride!
Order by mail for a $7 donation (including shipping)

Official Wildcat Coffee cups

PEWTER PLATES
Pen/Stylus

Price List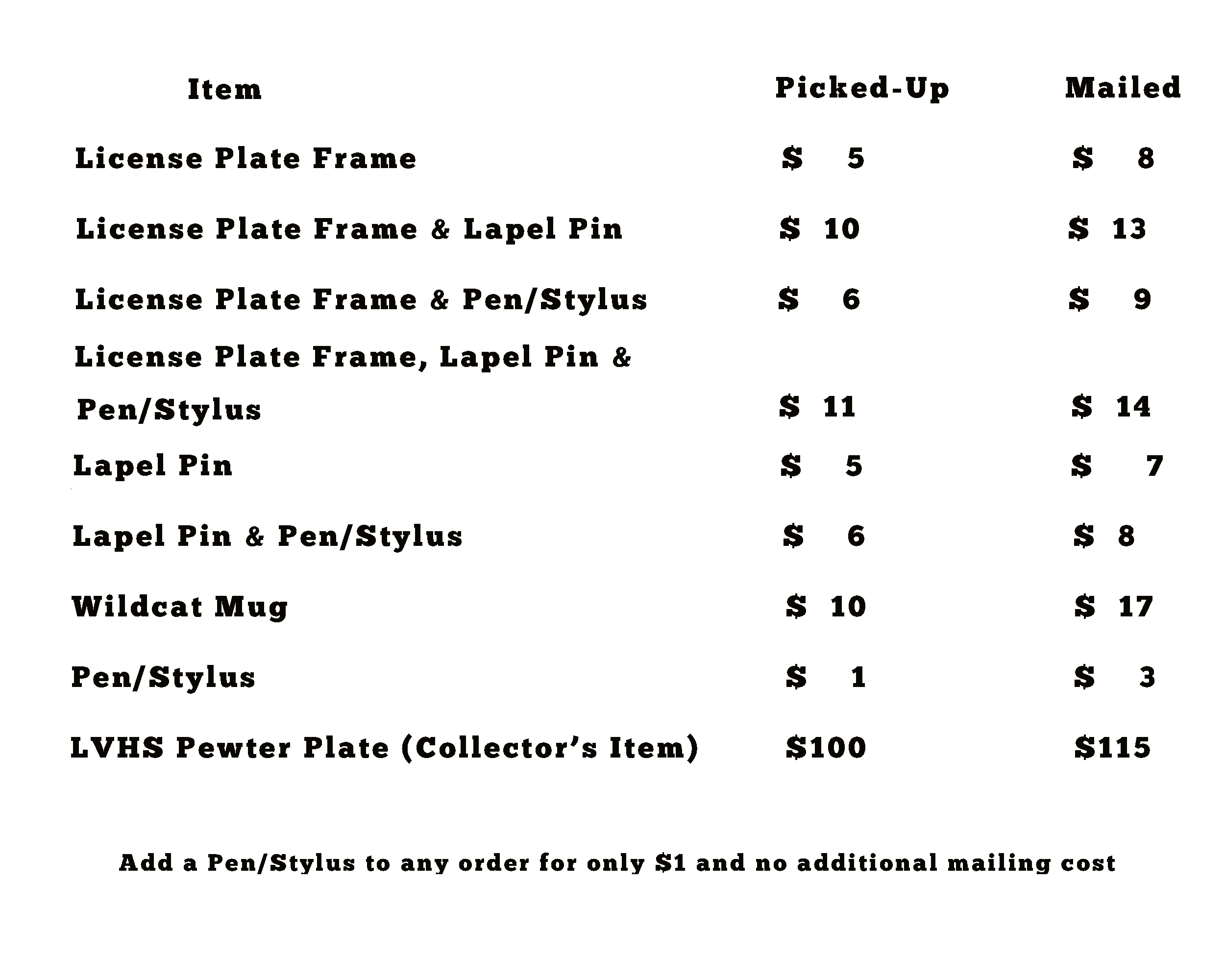 We will make them available to all classes that are having reunions, parties, luncheons, etc. if you would like to sell them to their classmates
order here: lvowl@aol.com
Send check or money order payable to the LVHSAA Scholarship Fund to:

LVHSAA
1854 Taylorville Street
Las Vegas, NV 89135
The proceeds go to the LVHSAA scholarship fund.
***
PROVIDE A SCHOLARSHIP OR GRANT!!
Donate a vehicle, such as a car, truck, motorcycle, RV, off-road
4-wheeler, or other objects of value and receive the
largest tax deduction available for your donated items.
For more details, contact Bruce Langson at
(702) 265-1735 or email to blangson@hotmail.com
***
Curious about the Wildcat float construction?
Go to our photo page for pictures.
***
We had a dedication ceremony for the new Senior Squares Memorial Project.
Monday April 29th 2013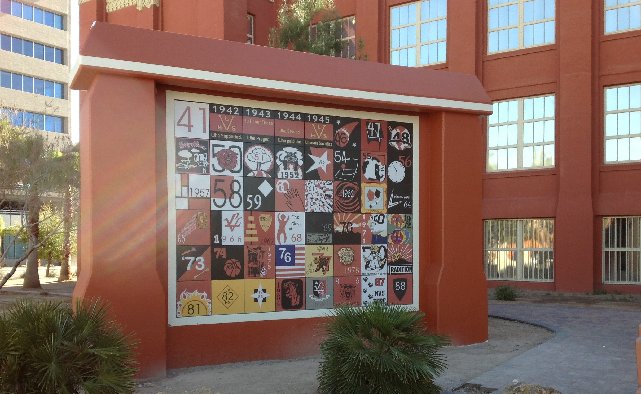 The original squares are now replicated on a tile monument.
This is a tribute to Wildcat senior classes of the past. 1941-1988
There was a ceremony at Monday April 29, 2013 to dedicate the monument.
Alumni from the original high school were there.
Leading the event was Mayor Carolyn Goodman. along with
Wildcat and former Nevada Governor and U.S. Senator Richard Bryan
A Wildcat by marriage, Dina Titus United States Representative also attended the ceremony.
***
Now would be a great time to consider joining the association.
Current dues for individuals are $25.00 annual or $300.00 lifetime
For alumni married couples $40.00 annual or $500.00 lifetime
Current annual members reminder:
Your renewal payment is due by September 30th annually.
If paying by check you do not need a form - just send your renewal check, payable to LVHSAA, to:
LVHSAA, 1854 Taylorville Street, Las Vegas, NV 89135
Click here for the membership form (if needed)!
You can pay and/or renew your dues through PayPal here
You can also donate to the scholarship fund via PayPal here
***
Teachers and Administrators:
We offer grants to the teachers and administrators
at Las Vegas High School, exclusively
and on a limited basis.
Please download and fill out the form.
***
We are currently forming a mentoring service for the students of Las Vegas High School.
Staffing this service will be alumni devoting time and information to interested students.
Mentoring is on a strictly volunteer basis.
There are two downloadable forms -
one for applying to be a mentor
the other for students to show what they may be interested in.
(click one)
***
Does your class have a website?
Have it listed here on our links page
Email us to submit your link for the website all classes welcome.
***
<--Click the links to the left for page surfing.