Welcome to the Las Vegas High School
Alumni Association
A 501(c)3 Non-Profit Organization
We offer information about the group, present memorabilia and content pertaining to
Las Vegas High School and the alumni from all classes since 1913.
This is also a good place to contact us.
We have a Facebook group too!
***
Holidays are coming how about some alumni association memorabilia for that special Wildcat on your list.
Official Merchandise!
In case you haven't heard, we have LVHSAA memorabilia available for donations to our scholarship fund.
Click here for photos and prices.
We will make them available to all classes that are having reunions, parties, luncheons, etc. if you would like to sell them to their classmates
order here: lvowl@aol.com
Send check or money order payable to the LVHSAA Scholarship Fund to:

LVHSAA
1854 Taylorville Street
Las Vegas, NV 89135
The proceeds go to the LVHSAA scholarship fund.
***
2020 CLASS REUNIONS
Will your class be holding a reunion in 2020? If so, please let us know so we can post it on the "Class Reunions" page of this website and include it in our future newsletters.

***
***

2019 WILDCAT REUNION
The annual all-class Wildcat Reunions was on September 21.
Details are mailed out to over 5500+ alumni. If you did not receive our mailing, please send an email with your full name (first, last/maiden, married), year of the class you were in,
and your mailing address to: lvowl@aol.com
This is a great opportunity to catch-up with your classmates and friends from other classes!

SEE MORE DETAILS ON THE WILDCAT REUNION page of this website.
Attendee RSVP list for 2019 Wildcat Reunion
***
LAS VEGAS HIGH SCHOOL ALUMNI ASSOCIATION SCHOLARSHIP PROGRAM
The Las Vegas High School Alumni Association provides scholarships annually, ranging between $1000 and $4000, to Las Vegas High School seniors planning to attend a Southern Nevada college or university. These scholarships are available directly from the LVHSAA. In 2019 we awarded 10 scholarships totaling $22,000 and since 2009 we have awarded a total of 69 scholarships totaling $133,000 – thanks to the generous support of our alumni!
Students:
If you would like to apply for one of our scholarships next year, please contact your Senior Counselor for details.
***
Just a reminder - -
LVHS MEMORABILIA DISPLAY
The Las Vegas High School Alumni Association donated a beautiful display cabinet to the Las Vegas Academy. This cabinet is in the lobby of the main building at 7th and Bridger and houses LHVS memorabilia. The Academy welcomes visitors to stop by to see the memorabilia any time. The display is changed every few months.
We plan to display memorabilia from classes having significant reunions in any given year. If any of you have something you would like to display (you can either donate or loan to us - we will take good care of it and get it back to you if you wish), such as class rings, previous group photos on the steps, letter jackets or sweaters - or anything that will bring back memories from your years at LVHS - please let me know. It would be appreciated if you would reach out to your classmates also for anything they would like to contribute to the display.
You can give me a call at 702-876-6660 or let me know via email lvowl@aol.com
Thanks!!
Patty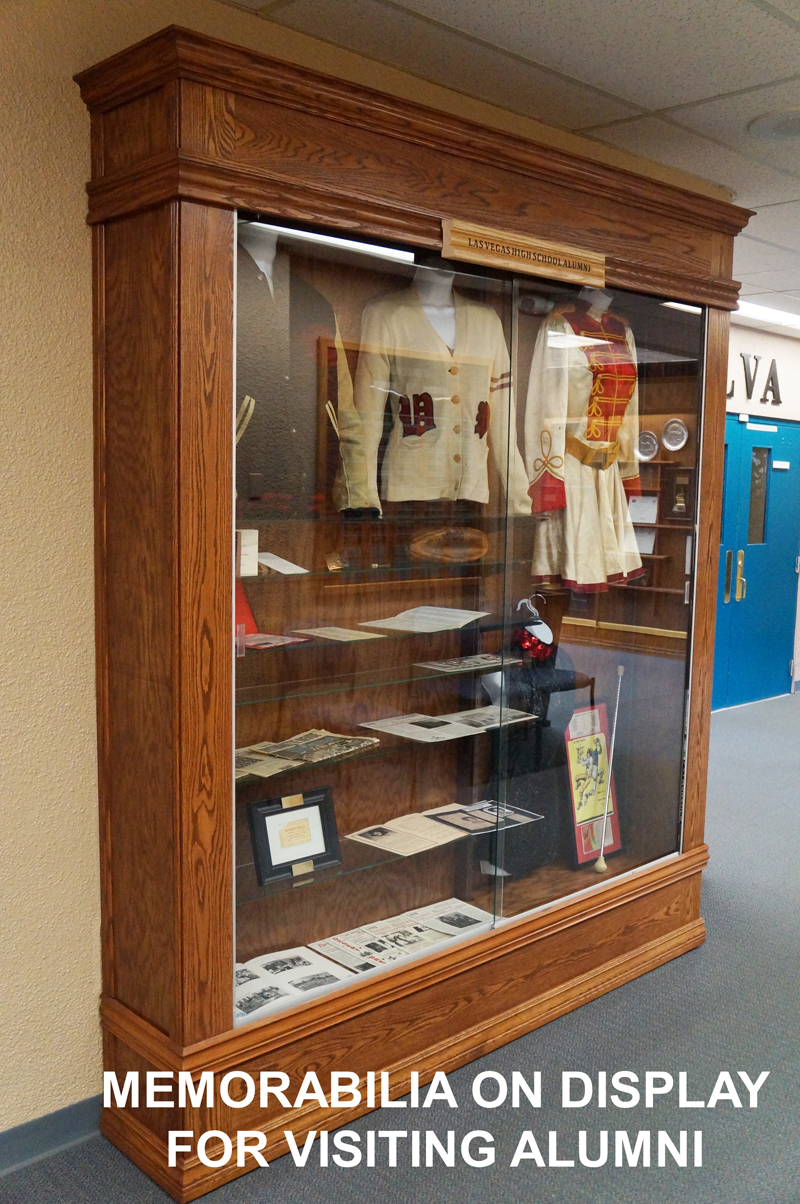 ***
Now would be a great time to consider joining the association.
Current dues for individuals are $25.00 annual or $300.00 lifetime
For alumni married couples $40.00 annual or $500.00 lifetime
Current annual members reminder:
Your renewal payment is due by September 30th annually.
If paying by check you do not need a form - just send your renewal check, payable to LVHSAA, to:
LVHSAA, 1854 Taylorville Street, Las Vegas, NV 89135
Click here for the membership form (if needed)!
You can pay and/or renew your dues through PayPal here
You can also donate to the scholarship fund via PayPal here
***
LVHS is a Title 1 school and has a high percentage of students from low-income families below the poverty level.
Many of the LVHS staff members personally provide school supplies and food for some of the students. The school has established a Donation Center to collect supplies to help the needy students, and the LVHSAA has provided funds to purchase storage supplies to house the donated items. If any of our alumni would like to help by donating non-perishable food, clothing, school supplies, etc., they should contact:
Patty Haack
lvowl@aol.com or (702) 876-6660
***
Visit the Senior Squares Monument at the 7th Street Campus (now the Las Vegas Academy).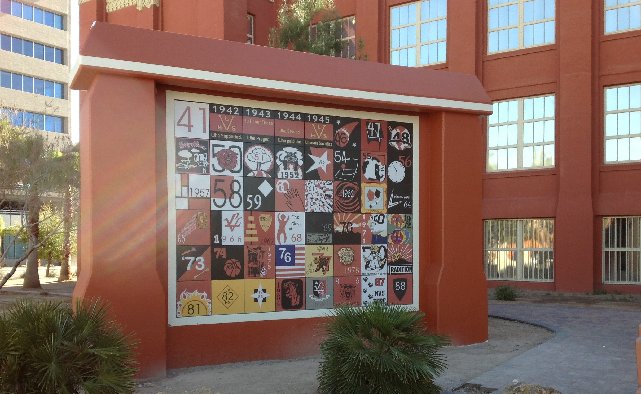 ***
You can now add the LVHSAA to the list of charities helped by Amazon Smile. When making Amazon.com purchases, simply go to smile.amazon.com and continue as you normally would. They will donate 0.05% of your purchase to the charity designated. This is just another way to add to the LVHSAA Scholarship Fund.
(CLICK THE LOGO BELOW)

***
PROVIDE A SCHOLARSHIP OR GRANT!!
Donate a vehicle, such as a car, truck, motorcycle, RV, off-road
4-wheeler, or other objects of value and receive the
largest tax deduction available for your donated items.
For more details, contact Bruce Langson at
(702) 265-1735 or email to blangson@hotmail.com
***
Curious about the Wildcat float construction?
Go to our photo page for pictures.
***
Teachers and Administrators and students:
On a limited basis we offer grants to the teachers and administrators and students
at Las Vegas High School, exclusively
Please download and read procedure information to fill out the grant request form.
Information for students
Information for teachers
Fill out form for administrators and staff
***
Does your class have a website?
Have it listed here on our links page
Email us to submit your link for the website all classes welcome.
***
<--Click the links to the left for page surfing.