Here is where we list upcoming and past reunions.
All we need from you is the information to post.

The LVHS Alumni Web Site is constantly under construction!!

Any info you'd like posted feel free to email to reunion info for inclusion!
Current reunion years without info will be posted in aqua
2018 reunions
***
Class of 1948
***
Class of 1950
planning a 68 year reunion in 2018. Details will be posted as soon as they are available or you may contact Barbara Sexsmith Taylor at btaylor@msn.com
***
Class of 1958
Class of 1958 is planning their 60 year reunion for Friday and Saturday, September 28 & 29, 2018.
Contacts are:
Linda Rankin Givens (702) 373-5511
lindagivens99@gmail.com
or
Sharon Von Tobel Schmitt (702) 228-9985
sharonlee5@cox.net
***
Class of 1963
***
Class of 1968
Plans are underway for a 50 year reunion on September 28 and 29.
Details will be available soon.
Contact Suzanne Hoskinson Scano at sscano13@yahoo.com or (702) 250-0833
for further information.
***
Class of 1973
***
Class of 1978
We are just starting to plan for our 40th reunion in 2018. We will be having it on Sept 28-29, 2018 in conjunction with the All Class Reunion on Sept 29. Those interested can email me at GeorgeannR460@gmail.com for more information.
We have also set up a FB group to discuss our plans for the reunion that we would be happy to add them to when we find them.
***
Class of 1983
***
Class of 1988
***
Class of 1993
***
Class of 1998
***
Class of 2003
***
Class of 2008
***
Class of 2013
Info & pictures from past reunions
***
2017 Reunions
***
Class of 1957
Mickey Hollingshead and members of Class of 1957 celebrated their 60th Reunion at the Wildcat Reunion and at the Bootlegger Bistro with owner Lorraine Perry Hunt-Bono and husband Dennis Bono. In front is Lorraine's mother, chef "Mama" Maria, who is 100 years old and still cooking at the Bootlegger!
(click on pictures for full size)
***
Class of 1967
Members of Class of 1967 celebrated their 50th Reunion on a cruise along the California Coast and Mexico. They also were honored as "Golden Grads" at a luncheon at LVHS on June 8 and at the LVHS graduation ceremonies on June 9.
See more details in the Wildcat Tales #18 newsletter (on the "Association News" page of this website).
(click on pictures for full size)
***
Class of 1997
Members of Class of 1997 celebrated their 20th Reunion at the Wildcat Reunion on September 23. See more details in the Wildcat Tales #18 newsletter (on the "Association News" page of this website).
(click on picture for full size)

***
Older posts
***
Class of 1935 class reunion in 1983
click here for picture
and
here for attendee list
***
Class of 1960
Russ Chang celebrates his 55th class reunion
Blog by www.liachangphotography.com
***
Golden graduation ceremony Class of 1965
Two PDF files below documenting the 60 year reunion of the class of 1953
***
Class of 1963
Utah mini-reunion dinner - Nov 2013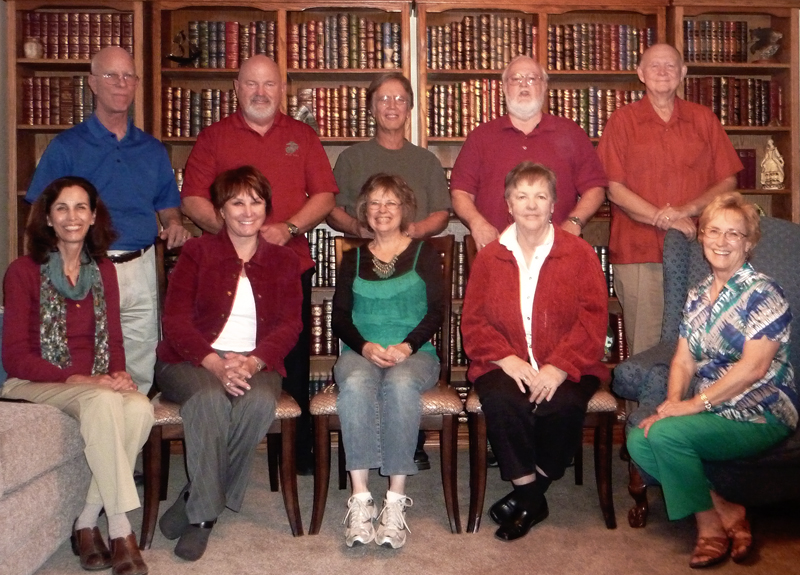 left to right:

Neil and Sue Brady
Jon and Dee Ann Larsen
Norman and April Love
Trent and Sue Whittle
Clayton and Ann Marie Downey
***
A pdf newsletter by and for the class of 1953 on their 60 year class reunion
Class of 1962
The 50th Reunion for the Class of 1962
was September 21 and 22, 2012.
Go to LVHS62.org for info
***
Class of 1972
Class of 1972's 40th reunion was
Friday, September 14, 2012
Saturday, September 15, 2012
Sunday, September 16, 2012
For information call:
Dave Williams at (702) 355-8676
or email: dazapw@gmail.com
***
Class of 1959 luncheon-Golden graduation ceremony
click here for pictures!
***
Class of 1945:
The class of 1945 had their 63rd reunion on Friday, September 19th at the Italian American Club.
There were 58 attendees, including some from other 40s classes.
Seated: John Mendoza, Tom Pursel, Patty Roach Deverell, John Foley, Fred Gibson,
George Zettler, Barbara Knudson Henry,Beverly Johnson,Joylin Johnson Vandenberg
Standing: Leslie Smith, Martin Hardy, Paul Stokes, Melvin Whipple, Andrew Mikulich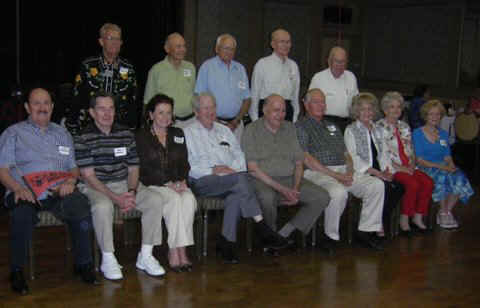 click picture above for photo album
Contact was Joylin Vandenburg at 702/873-2833 or joylinv@cox.net

Class of 1958:
The class of 1958 had their 50 year reunion October 17-19, 2008
A Friday night ice-breaker was held at the home of Peggy Williams Hallerberg
The Saturday night dinner was held at Canyon Gate Country Club.
Click here for photo album

Contacts were Linda Rankin Givens at 702/363-5511 or ljgunlv@cox.net,
or Peggy Williams Hallerberg at 702/250-9380 or peggyhaller@earthlink.net

Class of 1972
Contact: David Williams email
Class of 1976
Las Vegas High School Class of 1976 HomePage
(created by David Long, class of 1976)
class Newsletter by Dennis Berry (click here)